A 3D Building Information Model image of the mechanical room of the University of Iowa Biomedical Research Support Facility in Coralville, Iowa. The facility was a design-build project of Carl A. Nelson & Company.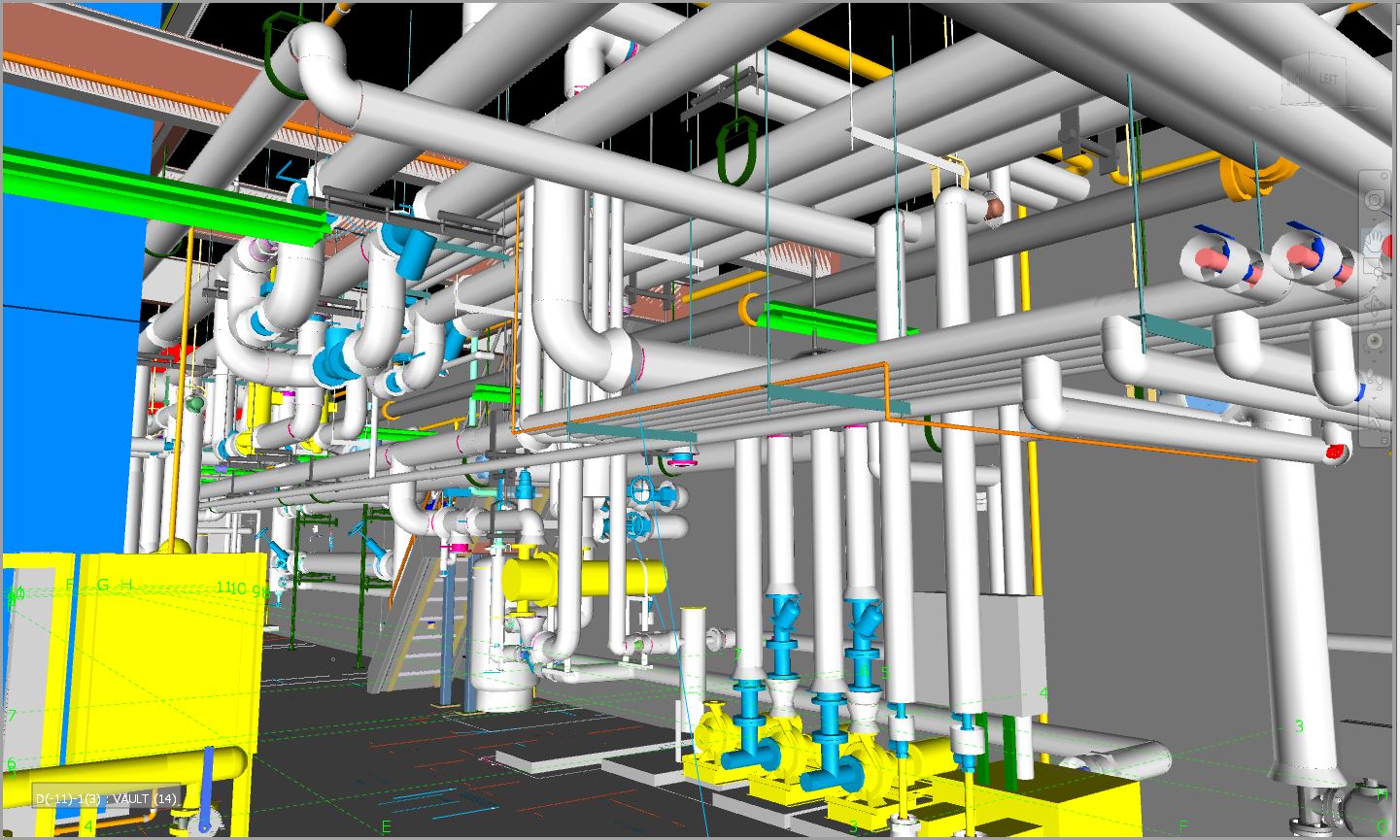 Carl A. Nelson & Company is home to an in-house design firm, the wholly owned subsidary, Nelson Design, Inc.
Nelson Design offers a full range of design services, which are available to CANCO construction clients. Clients in all of the markets served by Carl A. Nelson & Company, including industrial, healthcare, recreation, office/corporate and more, are able to tap into those services, which include:
Code Review
Our Nelson Design staff and CANCO construction project team leaders are expert in code review and code consulting, and will examine clients' building design to ensure all applicable code requirements are being met; to prevent misapplication of code that could result in costly rework; and to offer alternative paths to code compliance that may offer a lower initial or ongoing cost. Areas of code review include hazardous materials, life safety and related construction standards. Code review services are available to clients on design-build and design-assist projects.
Building Information Modeling
Nelson Design, Inc., will combine its experienced staff with 21st century software tools to create or collate building information models, then render three-dimensional images to show a digital preview of the completed project, along with potential conflicts among mechanical, electrical and other systems, or between MEPT systems and structural design, so problems can be addressed prior to construction or fabrication, saving time and money on projects. This service is available to clients across all construction project delivery methods.
Design-Build & Design-Assist
Decoding the Code
Each issue of Carl A. Nelson & Company's client newsletter, wibi, features an article about issues related to code review in industrial, healthcare or other market segment.
Contributors include Nelson Design, Inc., architect Ellen McCulley, AIA LEED AP, NCARB, and licensed architect and Project Manager Cindy Larson, NCARB; as well as CANCO President Tim Seibert, P.E., and Project Executive/Director of Business Development Dan Culp, ASHE.