Get to Know CANCO
What We Do
In business since 1913, Carl A. Nelson & Company — you can call us CANCO — is a design-build, construction management and general contracting company. Founded and still operating in Burlington, Iowa, we also have offices in Cedar Falls and Washington, Iowa. Our offices work as one to better serve our customers' needs.
CANCO is a commercial construction company, with experience in industrial and institutional construction. We work in several construction market segments, delivering projects primarily for industrial, healthcare, education and recreation customers. We perform work in civic and community construction; commercial and office construction; power plant construction; laboratory construction; and water treatment and wastewater treatment construction. And we design and build pre-engineered metal buildings for clients in a variety of construction markets.
Visit our Project Portfolio to see examples of our work
Our Nelson Plant Services division provides quick-turnaround construction projects and ongoing maintenance services in operating manufacturing plants. Nelson Design, Inc., is a wholly owned subsidiary of CANCO providing code review, BIM coordination other design-related services to clients.
How We Do It
At CANCO, we put an emphasis on safety. Working safely is at the forefront of everything we do. And while every company has the capacity to improve, we are justifiably proud of our safety program, and of a safety history that includes twice in recent years exceeding 1 million man hours without a lost day accident.
With approximately 120 direct-hire employees in the field and the office, Carl A. Nelson & Company has the people and the processes to deliver quality on your next construction project. Our project superintendents average more than 32 years of experience in the construction industry, while our project managers average more than 26 years of industry experience. Among them are descendants of Carl A. Nelson's founding team, who have inherited the skills and work ethic of our company founders.
We maintain more than $2 million worth of tools and equipment to back up our employees' efforts in the field.

Carl A. Nelson & Company was featured in July 2020 on the Iowa Business Report radio program and podcast. Learn more about CANCO in this episode of the podcast.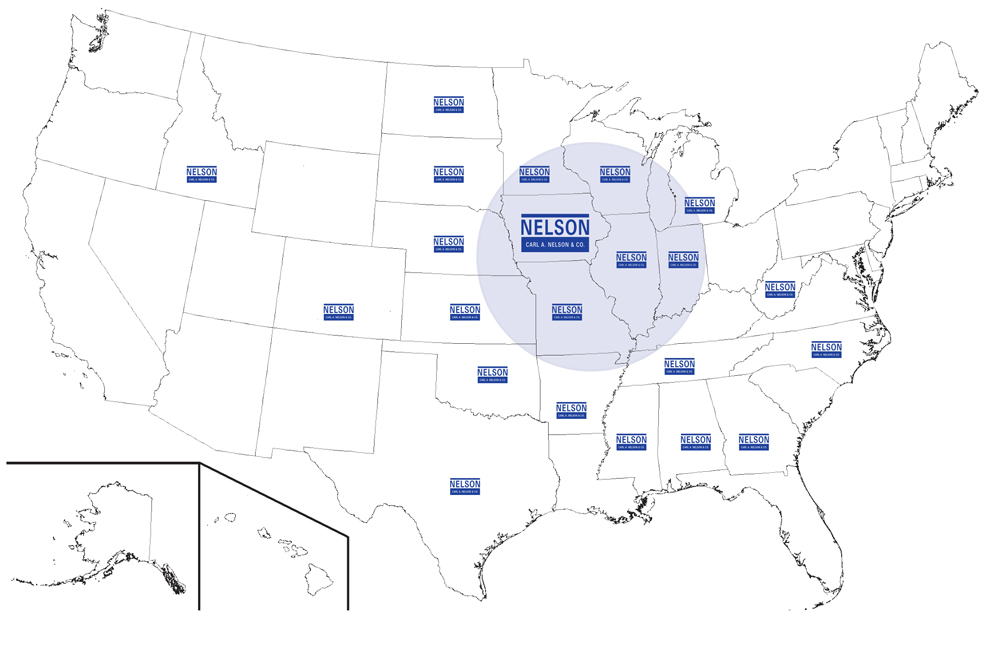 Where We Work
Based in Eastern Iowa, CANCO does business across the state, throughout the Midwest and all around the United States.
We are a licensed contractor in 23 of the 50 states: Iowa, Illinois, Indiana, Kansas, Minnesota, Missouri, Nebraska, South Dakota, Wisconsin, Alabama, Arkansas, Colorado, Georgia, Idaho, Michigan, Mississippi, North Carolina, North Dakota, Oklahoma, South Dakota, Tennessee, Texas and West Virginia.
Who We Are
Carl A. Nelson & Company is an employee-owned construction company that has built its reputation on quality construction and integrity in the marketplace. Profitability is our goal, but how we achieve it is what sets us apart from the competition. Our aim is to become your organization's go-to source for design-build and construction services. We work hard to emphasize value to the customer during every phase of a project, and to deliver projects that are on-budget, on-time and provide the best-possible return on the resources being invested.
Success means living up to our mission and our core values in our interactions with customers, suppliers, subcontractors and one another.

Our track record of delivering quality construction is demonstrated by one key statistic: 80 percent of our business is from repeat clients. On design-build projects, which represent about 40 percent of our average annual revenue, the share of repeat business approaches 85 percent.
At Carl A. Nelson & Company, our employees also take pride in their willingness to help our community through many different civic-minded channels. Contributions to the United Way, Salvation Army, Great River Hospice, Junior Achievement, Hope Haven, numerous school functions and even Eagle Scout Service Projects are just a few of the ways we have made a positive impact on the places where we live. Through the Carl A. Nelson Charitable Foundation, CANCO employees are given the opportunity to contribute to a 501(c)3 nonprofit organization that provides assistance to co-workers and their families during an illness or catastrophic event.
The Carl A. Nelson Charitable Foundation was established to provide relief, in our local communities, for individuals with medical, emotional, and physical distress created by unforeseen circumstances. The foundation is supported through employee donations and corporate giving. Three types of funding have been established: Relief Fund, Scholarship Fund, and a General Fund. Relief Fund monies are used for hardship assistance; Scholarship Fund for educational expenses; and contributions to the General Fund are distributed at the discretion of the Board to groups providing help to those in need.
The Board reviews grant applications on a nondiscriminatory basis, applying limited funds where the greatest social good can be accomplished. Board Members include current and retired employees of Carl A. Nelson & Company.

The Next Chapter is You
Now that you've read our history, and seen our emphasis on quality and integrity, we hope you can envision how Carl A. Nelson & Company will bring its pledge of Fairness and Honesty, Quality Workmanship and Service Second to None to bear for your organization.
Learn more by contacting us today.
It doesn't matter whether you're ready to get started, or still researching options. We would like to talk to you about how CANCO can be of service on your upcoming project, and work toward building a relationship that can carry on for many years to come.
We make it easy for you to get in touch. You'll find our phone number (319.754.8415), the email of our Director of Business Development, Dan Culp (dculp@carlanelsonco.com), and a contact form like the one below on just about every significant page of the site. We look forward to hearing from you soon.