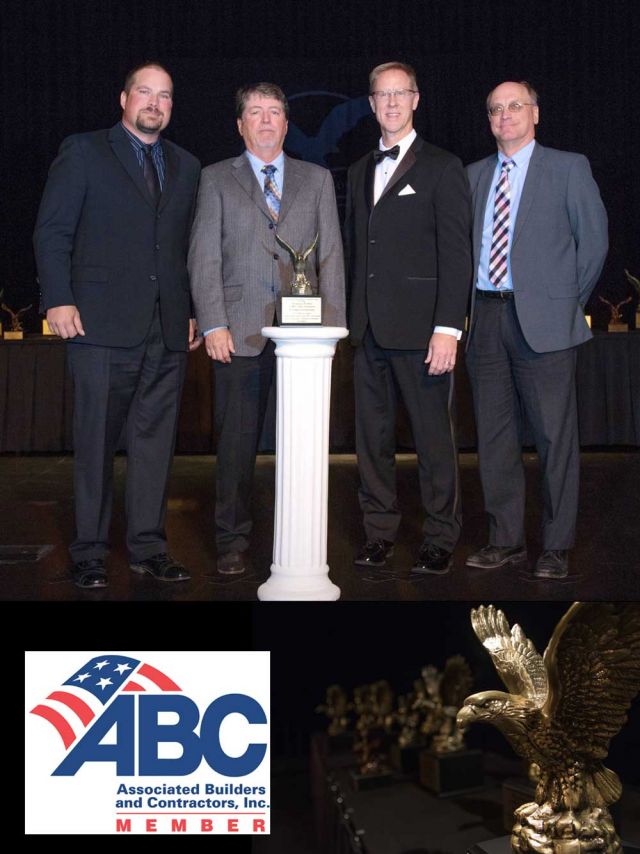 Company takes home award for Project at University of Iowa
BURLINGTON, IOWA (October 24, 2016) – Carl A. Nelson & Co. received a prestigious construction award from Associated Builders and Contractors of Iowa (ABC of Iowa) during the association's annual Excellence in Construction Gala held October 12, 2016 in Altoona, Iowa.
In the General Construction: Commercial and Institutional category, Carl A. Nelson received an Award of Distinction for the Biomedical Research Support Facility in Iowa City, Iowa. The facility is the most complex design build project ever constructed for the State of Iowa Board of Regents. This 51,240 square foot building is located on the Oakdale Campus and provides space for researchers exploring scientific discovery aimed at improving healthcare through research and education.
This unique vivarium facility houses specialized equipment and complex systems for ventilation, heating, cooling and humidification for all spaces within the building.
Criteria for the project awards included complexity of the project, attractiveness, unusual challenges, innovation, safety and budget compliance.
"This project is an example of the innovation and commitment to outstanding craftsmanship that embody merit shop construction. The superior workmanship illustrates the high level of quality produced by merit shop contractors," said ABC of Iowa President and CEO Greg Spenner.
"We are honored to accept this award on behalf of all of our employees. This project is truly a winner for the University of Iowa and Carl A. Nelson & Company," says Tim Seibert, President of Carl A. Nelson & Company.
Carl A. Nelson & Co. is a full service construction company with approximately 150 employees. They have offices in Burlington, Cedar Falls, and Muscatine, Iowa. Employees are skilled in concrete, site cast tilt-up concrete, precast concrete erection, steel erection, carpentry and millwright services. Carl A. Nelson & Co. self performs about 50% of the work contracted. Their project superintendents have an average of 32 years experience in construction and project managers have an average of 25 years construction experience. Carl A. Nelson & Co. provides construction services in the role of General Contractor, Design-Builder and Construction Manager. Construction markets include healthcare, industrial, education, commercial, power, laboratory, recreation and civic facilities.