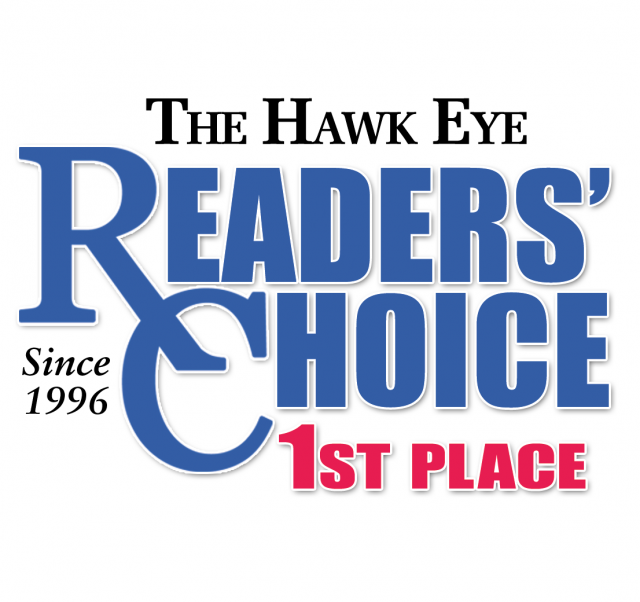 Readers' Choice Awards Announced
BURLINGTON, IOWA (August 29, 2016) – Carl A. Nelson & Co. recently was named #1 Commercial Building Contractor by readers of The Hawk Eye newspaper in Burlington, IA. The results were printed in the August 28, 2016 edition.
The Hawk Eye, established in 1837, is Iowa's oldest daily newspaper and has been conducting the survey since 1996. The circulation area includes Des Moines, Lee, Henry, Louisa and Van Buren counties in southeast Iowa, and Henderson and Hancock counties in west-central Illinois.
"I am thrilled that the people of our home town (Burlington) selected us as the #1 Commercial Building Contractor." said Michelle L. Stump, Marketing Director. "We have been in Burlington since 1913 and our employees are proud of the work we have done here. Carl A. Nelson & Co. has built a great number of Burlington's buildings. From historic to iconic to retail, we have played a great role in Burlington's growth over the years." added Ms. Stump. The Burlington, IA project portfolio for Carl A. Nelson & Co. includes the Des Moines County Courthouse, The Burlington Bees Stadium, PZAZZ! Hotel, Des Moines County Jail, Burlington Area YMCA, Messiah Lutheran Church, Borghi USA, Inc., Dresser Rand, Winegard Headquarters, and numerous projects for Great River Medical Center, CNH Global and the Burlington School District.
Carl A. Nelson & Co. is a full service construction company with approximately 150 employees. They have offices in Burlington, Cedar Falls, and Muscatine, Iowa. Employees are skilled in concrete, site cast tilt-up concrete, precast concrete erection, steel erection, carpentry and millwright services. Carl A. Nelson & Co. self performs about 50% of the work contracted. Their project superintendents have an average of 32 years experience in construction and project managers have an average of 25 years construction experience. Carl A. Nelson & Co. provides construction services in the role of General Contractor, Design-Builder and Construction Manager. Construction markets include healthcare, industrial, education, commercial, power, laboratory, recreation and civic facilities.