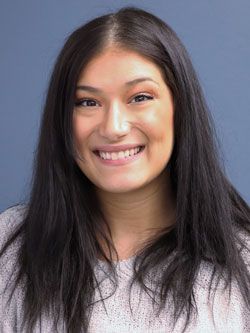 Carl A. Nelson & Company is pleased to announce the hiring of Lindzie Payne to take over front desk duties as the new receptionist in the Burlington office.
Payne, who started work Feb. 10, grew up around the construction industry, and is excited to come to work for the 107-year-old design-build, construction management and general contracting company.
"Everybody knows Carl A. Nelson & Company in Burlington," Payne said. "It's an institution."
Payne is a 2012 graduate of Burlington High School. She comes to CANCO after five years with a Burlington law firm as a legal assistant. Previously, she worked for a lawyer in Mount Pleasant whose wife ran a pageant business and saw an opportunity to make use of Payne's skills and interest in graphic design, which she learned in high school.
"I would do criminals by day, and at 4, pageant girls and models," Payne said, adding she also waitressed on the side during her time with both law offices.
A single mother of twin 5-year-old girls, Stella and Sophie, and a recent first-time homebuyer, she said working with criminal defendants lost its appeal after her last case: trial prep in the killing of a well-known Burlington resident in 2019.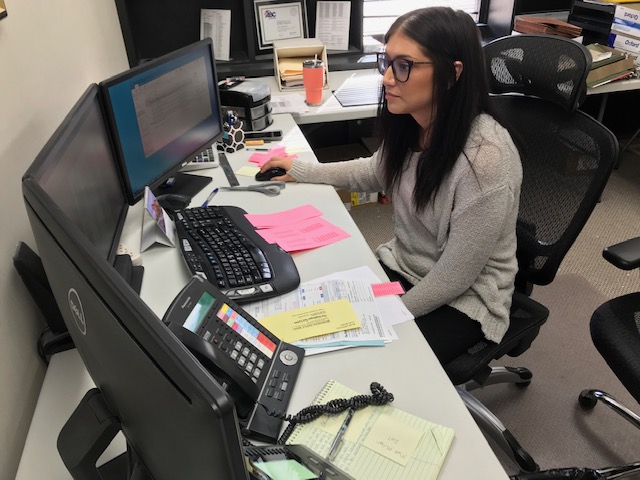 Receptionist Lindzie Payne at her desk in temporary quarters during a soon-to-be-completed lobby and front desk remodel. (CANCO photo)
At CANCO, Payne said she looks forward to being part of a sizeable company with a small-company feel. Her duties will include answering calls for Carl A. Nelson & Company offices in Burlington, Cedar Falls and Washington, Iowa; greeting visitors to the Burlington main office; and performing general office management tasks.
She also is excited to get to be the first occupant of the soon-to-be completed remodeling of the front desk and lobby.
Away from work, Payne and her girls are regulars at the Burlington Public Library, and can frequently be found on her parents' farm, tending the chickens and riding in the four-wheeler.