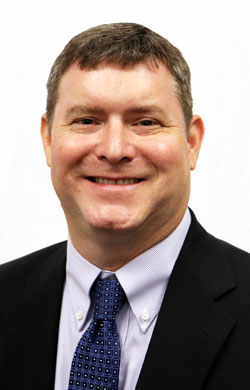 BURLINGTON, Iowa ­— Carl A. Nelson & Company, a 107-year-old design-build, construction management and general contracting firm based in Burlington, Iowa, is pleased to announce that Gregg Mandsager has joined the firm as its Vice President of Administration.
Mandsager, who began his duties Sept. 28, brings a lengthy history in municipal government administration to the role. Since 2000, he has been the city administrator or manager of the cities of Muscatine, Iowa; Lebanon, New Hampshire; and West Burlington, Iowa.
"We are pleased that Gregg has selected Carl A. Nelson & Company for the next phase of his career and will bring his extensive management experience to our company and allow us to continue to serve our clients with Service Second to None," said Carl A. Nelson & Company President Tim Seibert, P.E., in announcing the selection.
As vice president of administration, Mandsager will serve as secretary on the Carl A. Nelson & Company Board of Directors. His day-to-day responsibilities will include managerial oversight of functions including accounting, finance, human resources, information technology, safety and warehouse and equipment operations.
A 1995 graduate of Drake University Law School with a juris doctor degree, Mandsager also has degrees from Iowa State University in political science, and an associate's degree from Iowa Central Community College in Fort Dodge.
Mandsager and his wife, Anna, are the parents of four. The couple and their youngest son, Ryan, reside in Muscatine.
Employee-owned Carl A. Nelson & Company was founded in 1913 in Burlington, Iowa, and today also has offices in Cedar Falls and Washington, Iowa. Licensed in 23 states, the firm works in a variety of construction segments, including the industrial, healthcare and educational markets.